A few weeks ago I was taking some pictures of my kids at a museum and decided to change my lens. After removing my wide angle lens, I noticed a long brown hair inside on my mirror. Bleck!
Serisouly that is gross.
And even more seriously, how did it get there???
It was a good reminder to me that keeping my DSLR clean on the inside is just as important on the out. In fact, every time you change your lens, dirt and dust particles collect inside.  You may even see the dirt appearing in dark specks on your images.
There are two options when cleaning your camera. Send it in to the manufacturer, or do it yourself. I have never sent my camera in to be cleaned before. Mostly because I hear horror stories of cameras coming back dirtier than they were sent it. (Go here to see what I mean.)
I know it sounds scary, but you can easily clean the inside of your camera yourself. Now, before I tell you how, let me show you what the inside looks like: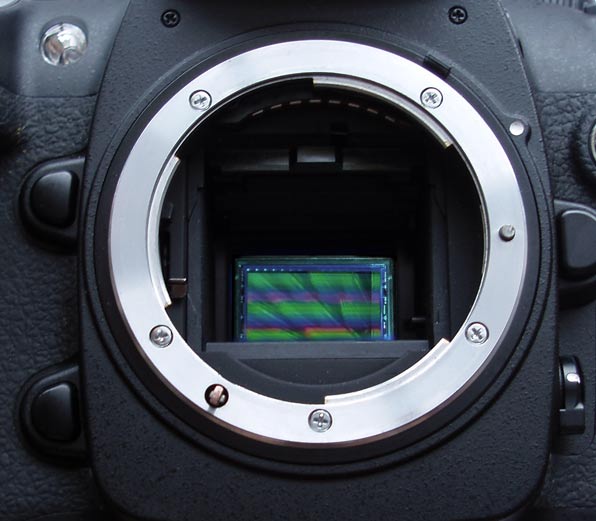 The inside of your camera has a mirror, and an image sensor. An image sensor job is to convert an optical image into an electronic signal. The mirror is located in front of the sensor. All DSLR cameras allow you to lock up your mirror for cleaning or viewing your sensor.
The green line above represents the camera mirror, and the red line represents the camera sensor. The blue line is the filter protecting the sensor. This is what you are cleaning. Even though it is called "sensor cleaning", you are actually cleaning the low-pass filter that sits on top of the sensor. It too looks like a little mirror or piece of glass.
Note: many newer cameras have a "clean image sensor feature". The camera uses an ultrasonic pulse to remove dust. You will want to check your camera menu for this feature. Self cleaning camera's will not remove large particles and do not clean the camera mirror.
Now that you have seen the inside, let me show you an easy way to clean your sensor yourself. I am using the SensorKlear kit made by Lenspen. It retails for $99.95 and can be reused.
I am not aware of other products like this on the market, but there are companies who sell lint free cloths. (Never use a product with lint or loose cotton inside your camera. Q-Tips and tissues are bad news my friends.)
The SensorKlear kit come with everything you need. Loupe with a built in light, Hurricane Blower, SensorKlear II pen, extra batteries, and a carrying case.
Here's how to start:
First, make sure you are in an environment that is as clean and dust free as possible.
Next, remove your lens.
After that, set the Loupe on your camera with the light on.
If you see any dirt or particles, use the Hurricane Blower to remove them.
Next, set the loupe back on top of your camera. Turn on the light again and look inside. If you still see dust or particles, remove them with the SensorKleann II pen. It is made with the same carbon compound as other Lenspen products, and will also easily remove dirt and oil.
The loupe can be rotated to reach other areas inside.
After removing any fingerprints or dirt, you can use the Hurricane Blower again if needed.
That's it! See, not so bad!
After putting your mirror back down, you can clean any dust with the Hurricane Blower. Be very careful and try not to touch your mirror, as you don't want to disturb it's alignment.
That's it! The SensorKlear kit is a great way to do it yourself for less, and it saves you from being without your camera for several weeks while it is shipped back and forth from the manufacturer.
Have you ever cleaned the inside of your camera before? Let us know what tips and tricks worked for you!
To learn more about SensorKlear go here. Thanks Lenspen for sending us this super cool kit for this tutorial!
This post may contain affiliate links, which means I receive compensation if you make a purchase using the links.
Comments
comments