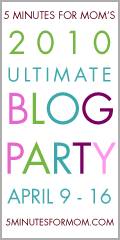 I decided that my Windows 7 post will wait until Monday, and the whole week will be dedicated to teaching you all about the great new features of Windows 7!  I had a super stressful week, and therefore decided to join the Ultimate Blog Party and have a little fun today!
So today my theme is the top 5 tech things about me…
1. I've had a computer in my house for as long as I can remember (and I'm 31). I was probably playing around on DOS (one of the first Microsoft operating systems) before I started kindergarten.  My Dad is a computer genius, and I'm a Daddy's girl, so it only made sense that I'd follow in his footsteps. 
2. While I was always good at computers, I really didn't get into it until I was in high school and I had a huge crush on a guy that was into computers.  The really funny thing is that two of the things I like the most now were direct influences from him… my favorite band, Everclear, and computers.
3. I'm obsessed with my Dell laptop and my Palm Pre phone.  Not only am I obsessed, I'm downright addicted!  My laptop's name is Elle, cause she's powerful and pink (just like Elle Woods).  I've had a stressful week, and I thought for a brief moment this morning that I was going to keep my laptop off all day today, and then immediately thought to myself… who am I kidding.  I would probably stress myself out more with the laptop withdrawls.
4. I own about 12 domain names and am constantly coming up with new ideas.  Luckily I'm friends with my webhost, who humors me in getting them all set up.  I do all the design work myself (except sometimes I hire out images to mujka.ca cause heaven knows I can't draw to save my life).  I've tried to start a web design company, but realized I didn't like coding for other people that much, so I gave it up.
5. I started my IT career at a home building company, where I both screwed up royally (costing the company about $11k) and got screwed (when they gave my position to my employee).  The events were unrelated I assure you.  I really found my stride though at an IT consulting firm, and made some friends that will last a lifetime, and became the gateway to my current job that I love.  I work a help desk for a small IT consulting firm from home.  Which both allows me a flexible schedule and the ability to be home with my kids… which is SUCH a blessing in my life.
Thanks for stopping by!  I hope that as you follow me you will have fun, and be educated on tech at the same time.  I believe that EVERY woman should be able to know about technology.  It is NOT just for the Men!  If you ever have a tech question, or would like me to dedicate an entire post to a subject, tweet me @tech4mommies and let me know!
This post may contain affiliate links, which means I receive compensation if you make a purchase using the links.
Comments
comments