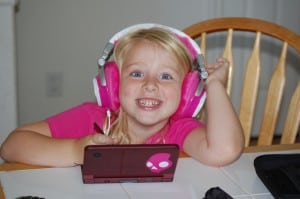 There are many different ways you can set guidelines for your children, or monitor the time they spend on entertainment activities.  I'm going to mention a few…
First there is my sister's, queen of Healthy Kids, method. She gives each child 30 minutes of video game time a day. After they have used their 30 minutes, they can earn extra time throughout the day by doing chores that my sister needs done. Such as sweep the kitchen or clean the bathroom. They use this time right away, so she doesn't have to keep track of how much they've earned.
Veronica (an Organized Mom contributor) allows her kids to earn time based on reading. If they read a book for 30 minutes then they've earned 30 minutes of game time.
Other ways of "earning" time could be that they have a jar with Media Money in it. Whenever they do something good, do an extra chore, read, etc they can add media money to their jar. When they want to play a game or watch TV they pay you the "money" and you allow them as much time as they have paid you.
Make it part of their routine. For my daughter we have a chart on the fridge that has all of the tasks she needs to accomplish during the day. she check marks or x's the task as she completes each item. It has things like feed dog, do 2 pages of homework, read 2 books, brush teeth, get dressed, etc. It also has 45 minutes of video game time. Once it's crossed off, it's done for the day.
Please share your methods of controlling the time your children spend with media!
This post may contain affiliate links, which means I receive compensation if you make a purchase using the links.
Comments
comments