Ready to meet the Cadillac of camera bags my friends? It's name is Ultra-Light Minibee, and it is made by Kata.
Kata is a very well known and respected brand in the photography and videography world. Their bags are incredibly well made, durable, and handle extreme wear and weather very well.
Want to take a peak at the Minibee?
Aint it purdy?
Oh my heavenly backpacks! I told you it was fancy.
Check out all those removable straps! And it even comes with a custom fit rain cover! Turn the rain cover over, and it's a sun cover to protect your camera and equipment from heat.
Let's peak inside…
Starting with the top of the backpack, we have the perfect size pouch for your cell phone, lens filter, and extra camera batteries.
Directly below, a larger pouch perfect for your video camera, compact camera, wallet, and more.
Look at that, there's one more pocket behind! The laptop pouch fits and protects your computer or iPad perfectly.
And on the front bottom of the backpack is my favorite pouch of them all. Just look at all that storage space for cameras and lenses!
It is seriously amazing how much equipment fits inside this bag.
But how does it hold up? I took the Minibee with me to Washington DC for a week and put it to the test!
All of Kata bags sport Aeriform Foam. It's perforated, laminated, and reinforced foam that is super light and super protective of your gear. I had so much breakable camera gear in this bag, I must admit I was worried about taking it on an airplane. Not only did the Minibee fit perfectly in the overhead compartment, but my camera gear also remained well protected from any in-flight harm caused by turbulence.
The Minibee is the perfect backpack size for women. I even had a cute group of women also visiting DC compliment the gray and yellow colors and design!
I spent several days in downtown DC and the backpack was easy to wear in and out of the Metro and museums. The Gecko foam harness provided extra cushioning, and even after all-day wear was still comfortable. That is a must for any camera bag!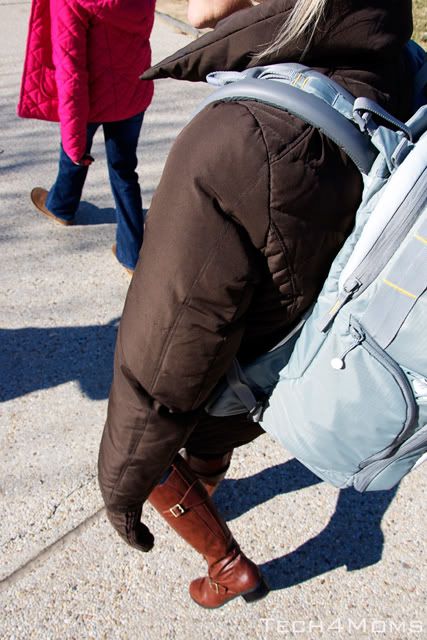 My  favorite part of the backpack is the lightweight aluminum alloy frame. It shaped well to my back, increasing comfort and helping to distribute weight.
I also loved that while visiting museums two, not just one, security men complimented my bag after putting it through a security scanner. You know those guys see a lot of camera bags!
On the last day or our trip it poured rain, and I was so thrilled to have the elements cover that easily slipped over the backpack. It was so nice to be able to keep exploring downtown without worrying about my camera and gear getting ruined in the rain!
Overall, I was very impressed with the Kata Minibee backpack. Priced at around $400 this bag is definitely in the high-end market for equipment bags, and will protect your equipment for years to come.
A special thanks Kata for allowing me to review this bag! To find an authorized Kata dealer go here. To learn more about the Minibee Ultralight go here.
This post may contain affiliate links, which means I receive compensation if you make a purchase using the links.
Comments
comments