I have two daughters who are very competitive with one another. One is thirteen, and the other six. Though several years apart, they still cannot sit down and play a game together without some kind of major drama. What is it with girls and DRAMA?
When Identity Games asked me to review the GameChanger for the iPad I was very hesitant. Visions of my girls ripping each others hair out would not make for the best review images!  I agreed anyway, because trying out the only game board where your iPad is an interactive component was just waaaay too tempting. I just can't say no to awesome new technology!
Priced at $79.99, theGameChanger is so simple to use. You just unfold it, and place your iPad or iPad 2 in the cradle. It features interactive animations and sound, thus adding a whole new dimension to the traditional board game experience.
The GameChanger pack includes two games: Animal Mania and Magic School Bus. There are also additional free game downloads available through app updates. Also, no batteries are required to play.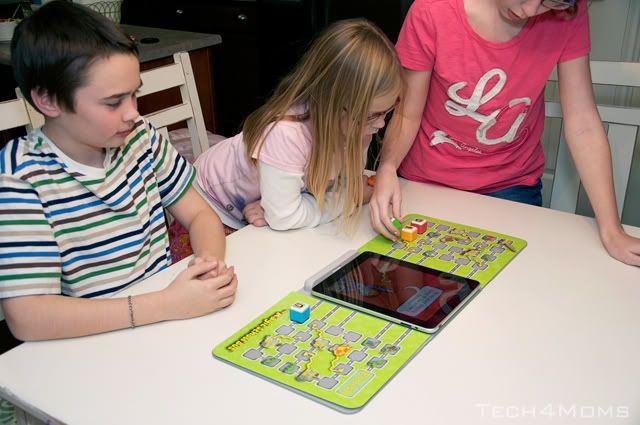 As soon as we placed our iPad in the cradle we were immediately prompted to download the free app through the App Store. The kids chose their game pieces, placed the game skin on the board, and within a few minutes we were ready to start.
GameChanger is recommended for kids 6 and up. My three-year old of course wanted in on the fun. Just look at that face, how could I say no? With my assistance she was able to play, and really loved the game as you can see by her face!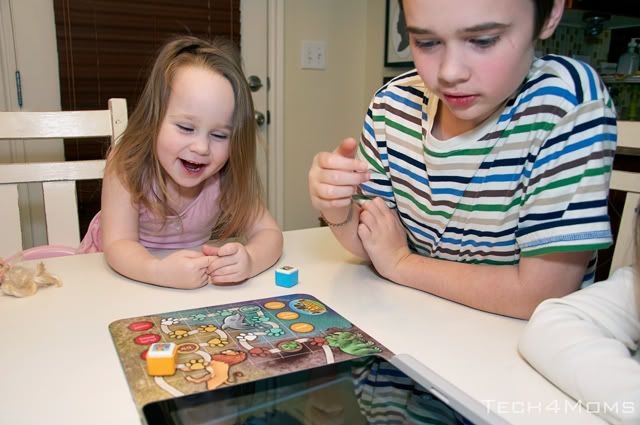 We tried out both Animal Mania and the Magic School Bus, and they both were a hit!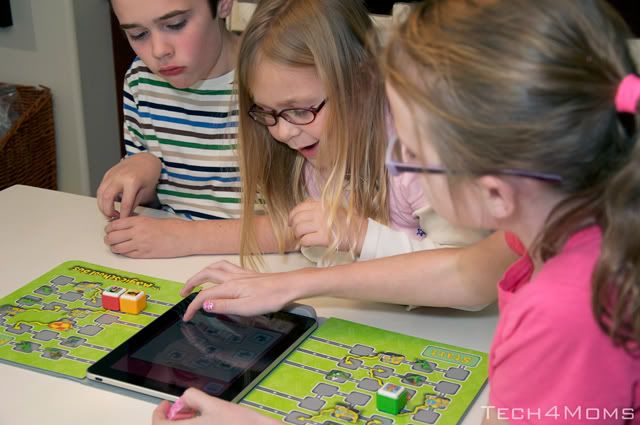 Often when younger kids play board games, they are confused as to which direction the game piece should go. My favorite thing about GameChanger is the application tracks the game pieces, and prompts them where to move. Do you know what this means??? No cheating! The game tracks your individual progress and keeps tab of where you are in the game. This has been the biggest problem in the past for us with board games. My six year old doesn't pay attention to where here game piece advances, and my thirteen year old constantly accuses her of cheating. Again, waaaay too much drama for me. With the GameChanger I was so impressed with how there was absolutely nothing for my girls to fight over. The app kept the kids right on track. Brilliant!
As you can see my six year old celebrated her victory. I guess there was some fighting, she had to rub it in her big sisters face that she can win, without cheating!
Oh, Identity Games, please make more board games where my daughters can play in peace and tranquility! And can you also make something that teaches them how to share a room without throwing each others clothes off my staircase balcony? Thanks in advance. 😉
Wait! Before you go, Identity Games wants to give a GameChanger to one of you! Leave a comment below for a chance to win one GameChanger board game for the iPad or iPad 2. Contest closes Monday, December 18th at midnight. Winner will be announced on Facebook. Thanks Identity Games for allowing me to review this awesome interactive board game! To find a GameChanger retailer go here.
This post may contain affiliate links, which means I receive compensation if you make a purchase using the links.
Comments
comments